" … È tutta armata dentro di ferri, perché sì gran globo non se reggeria da par se …
… il quale è fatto con invenzion nuova talmente, che con un sol dito si gran macchina se muove per tutti i versi …".
These words were pronounced in 1500 by Monsignor Egnazio Danti with reference to his innovative metal-framed spinning globe. They sparked off a desire to discover what was actually inside this magnificent globe on display in one of the rooms of the Palazzo Vecchio in Florence.
In July 2005, with support of the Authority for Cultural Assets of Florence and the Municipality of Florence, the "X-ray Imaging" research group at the Physics Department, Bologna University, carried out a "CAT" on the globe.
Let's see what they found out …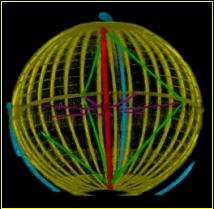 (Credit: "X-ray Imaging" Research Group, Physic Dept. Dipartimento di Fisica, Bologna University)